Clarins

Radiance-Plus Cream-Gel

$54.00

© 2012 Brent-Air Pharmacy Inc. All Rights Reserved. 
*
Year-Round Healthy Glow

For a radiant appearance all day every day. In just two hours, this day cream gives a healthy-looking, tanned result without the sun. Skin is supple and toned, perfectly moisturized, protected against harmful aggressions and incredibly radiant.

Clarins Radiance-Plus Self Tanning Cream-Gel - 1.7oz   $54.00

Order by Phone for Pick-Up: (310) 476-2211


- To promote a more radiant, even colour, exfoliate skin the night before.

- Apply in small amounts, using light, sweeping movements, over face and blending down to the neck.

- Avoid the eyebrows and hairline.

- Wash hands and nails well after application.

- Wait 15 minutes before dressing.

- To maintain a tanned appearance, apply every 2-3 days, alternating with your daytime moisturizer.

Key Ingredients:

Provitamin (Panthenol): enhance cellular balance within the epidermis

Vitamin E: protects against free radicals and premature skin aging

Zinc and Calcium: reinforce skin's resistance to aggressions

Kiwi extract: moisturizes and softens skin

A specific combination of DHA and Erythrulose: ensures a very natural-looking, radiant result

Extract of Larrea Divaricata (an Australian shrub): enhances the quality and lifespan of coloured cells to ensure stable, tanned results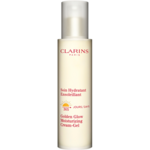 134 S Barrington Av

Los Angeles, CA 90049

310.476.2211 Fax 310.472.8659