Clarins

Liquid Bronze Self Tanning

$35.00

© 2012 Brent-Air Pharmacy Inc. All Rights Reserved. 
*
Beauty-award winning tanner perfect for special events or when you want a healthy glow quickly. As refreshing as water and as gentle as milk, this vitamin-packed tanner delivers color effortlessly to face and decollete with natural-looking results, while keeping your skin soft and healthy-looking. Results are subtle and you will see your sun-kissed results in just a few hours.

Clarins Liquid Bronze Self Tanning - 4.2oz   $35.00

Order by Phone for Pick-Up: (310) 476-2211


For a more radiant and even result, exfoliate skin the night before. Apply a small amount of self tanner with quick, light sweeping motions (avoiding the eyebrows and hairline). Gently wipe elbows, knees and heels with a tissue, as these areas can turn a darker colour. Wash hands and nails thoroughly after application. Wait a few minutes before dressing.

Key Ingredients:

Advanced tanning ingredients DHA and Erythrulose: create a golden tan

Aloe Vera extract: moisturizes, softens

Vitamin E: protects the skin from free radicals and pollution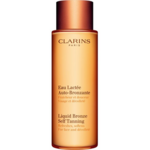 134 S Barrington Av

Los Angeles, CA 90049

310.476.2211 Fax 310.472.8659