134 S Barrington Av

Los Angeles, CA 90049

310.476.2211 Fax 310.472.8659

Clarins Extra-Comfort

Cleansing Cream $44.00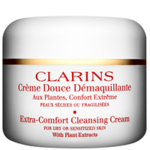 © 2012 Brent-Air Pharmacy Inc. All Rights Reserved. 
*
Ultra-Gentle Cleansing

Pure comfort for skin that is extremely dry or easily irritated. Rich, creamy formula — with Clarins' proprietary blend of Shea Butter and Jojoba Oil — gently lifts-off make-up, impurities and flaky cells leaving skin smooth, moisture-balanced and perfectly relaxed.

Clarins Extra-Comfort Cleansing Cream  $44.00

Order by Phone for Pick-Up: (310) 476-2211