Murad

Intensive Wrinkle Reducer®

$150.00

© 2012 Brent-Air Pharmacy Inc. All Rights Reserved. 
*
Rebuilds Youthful Radiance

Clinically proven ingredient diminish the appearance of fine lines and wrinkles by 55% in 12 weeks, improve skin smoothness by 33% in 2 weeks, and increase skin firmness by up to 40% after just one application.*

Murad Intensive Wrinkle Reducer® - 1oz   $150.00

Order by Phone for Pick-Up: (310) 476-2211


After cleansing and toning, gently smooth onto face, neck and chest. For optimal results, follow with a moisturizer and sunblock.

Key Ingredients:

Glycosaminoglycans, Glucosamine, marine-derived Polysaccharides, Linoleic Acid and Glycolic Acid: smooths appearance of fine lines and wrinkles and increases skin firmness

Durian and Glycolic Acid: provides anti-oxidant and anti-inflammatory protection

Glucosamine: increases production of hyaluronic acid for skin hydration

Lipo Amino Acid: helps improve appearance of age spots, discoloration and rough texture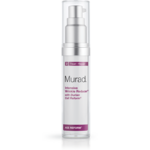 134 S Barrington Av

Los Angeles, CA 90049

310.476.2211 Fax 310.472.8659